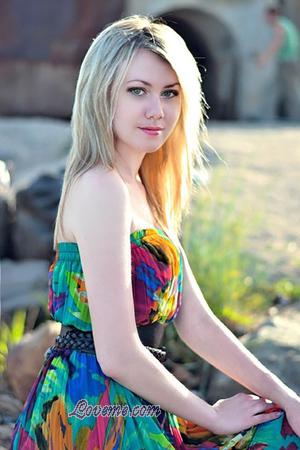 ID: 164673
Elena
Ukraine
City:
Mariupol
Age:
31
Zodiac:
Aquarius
,
Ox
Weight:
59lb, 27kg
Height:
5'8", 173cm
Eye Color:
Green
Hair Color:
Blonde
Marital Status:
Single
Children:
1 - boy, -1
Religion:
Christian (Orthodox)
Smoker:
No
Drinker:
No
Education:
University
Company:
School
Job Title:
Teacher
Sports:
Bicycling, hiking, yoga
Hobbies:
Dancing, walking, reading, cooking, movies
English:
fair
Languages:
Ukrainian (native),Russian (native)
Self Description: As a teacher at school I have the opportunity to see my pupils grow as they plan for their future. It is a challenge both for them and for me as we try to be better than we thought we could be. I am constantly learning from my pupils. I am responsible for all activities outside the school. I am a very creative person. I organize and provide adventure activities for my pupils of different ages. I believe that when I share myself with others, I have the potential to become a better person. I always try to maintain a positive outlook on life, finding humor every day, laughing every day, counting my blessings, enjoying good health, great friends/family. It takes a lot to get me upset. I don't even know how to be angry. Cooking gives me great pleasure even if I am doing it just for myself. I do love having dinner parties and all my friends gladly let me experiment with new recipes. I make a house into a home, full of warmth, beauty and delicious smells. I strongly bel! ieve that a man needs a happy homemaker, a warm and inviting atmosphere, and a wonderful meal to come home to at the end of the day. I really enjoy being around people, but also need my quiet time. Iím healthy and active, but not a big sports person. My work is physically active.
Comments: Wouldn't it be great to find someone who really enjoys life, laughter and sharing? That's basically what I am looking for. Not that we have to do everything together. After all, we all have our preferences and they may not always be the same but let's enjoy each other anyway. I hope you would be adventurous and open to new experiences as I am. You don't know if you like something unless you try it, right? Iím looking for authentic connection Ėemotional, physical, intellectual. We all know what it feels like, I think, but itís difficult to verbalize. Thereís a sense of recognition, understanding, acceptance, along with excitement and energy. I want a partner that has a great sense of humor, one that listens to and remembers what I have shared. I want a partner who is loving and attentive. My partner would rather talk through issues than argue. I want a partner who does not need a woman in their life but chooses to have a woman in their life to love and to share in t! he rest of life's journey. My ideal partner will show me every day just how special I am to him, whether by a quick email, a phone call, taking my hand, that certain smile that says it all...you get the idea. I would prefer a partner who has learned from their past relationships, has let them go, and is ready to start new. All of the qualities that I want in a partner, I am ready and willing to give to him. What comes around, goes around.