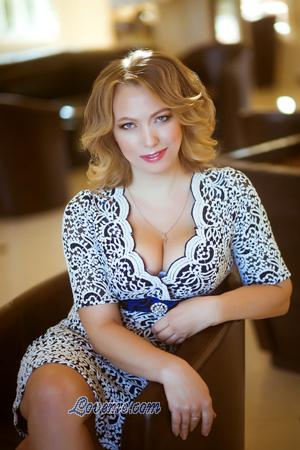 ID: 164878
Olga
Ukraine
City:
Mariupol
Age:
35
Zodiac:
Aries
,
Rooster
Weight:
132lb, 60kg
Height:
5'3", 160cm
Eye Color:
Green
Hair Color:
Blonde
Marital Status:
Single
Children:
1 - boy, 5
Religion:
Christian
Smoker:
No
Drinker:
Socially
Education:
University
Company:
Private
Job Title:
Sales Lady
Sports:
Hobbies:
Reading, music, movies
English:
poor
Languages:
Russian (native)
Self Description: I am a kind and positive person. I believe in the rule to treat others as you wish to be treated. I can be shy with people I hardly know, but at the same time I am friendly and soul of my good company. In spite of life realities, of challenges and difficulties, I find a moment for being romantic and sentimental. I notice beauty around and never take things for granted. Quality time with friends in conversation or common activities, time on the nature, especially close to the sea, traveling are those activities which bring a pleasure for me. I am a life loving person and will look at any new experience with positive attitude, I would like to discover more in this world, would like to try new activities, new sports, would like to get new knowledge. We spend much time with my son and it is always a good rest for both of us, we are a good company for each other. At the same time moments at home are precious for me also. It is hard to say what I donít like, maybe only s! ome extreme sports are not for me, as for the rest, I am open.
Comments: I am in search for my man for life, reliable and kind person who is ready for a devoted, stable relationship, who is traditional in his attitude to relationships where honesty, commitment, respect and sincere love play their big role. He is okay that I have a child of this age and can accept him with an open heart. I need a man with a loving heart, I am not looking for Mr. Perfect, I donít need somebody extraordinary, I need a man for life who values his family above everything.