Best way to find a ticket to Bangkok!
First go to www.orbitz.com. This site compares all the major airlines at the same time. Book your ticket to Bangkok(BKK) from LAX or any Major international airport. A good price from LAX is $1,000 to $1,500.
Check every few hours, Airlines adjust prices hourly using complex algorithms, price can change by more then 50% with in minutes. If you find a good price book it ASAP. Do not wait as the price will not last!
Please note when booking a trip to Thailand, you pass over the International Date Line so you lose one day on the way there plus the time of travel. Please make sure you arrive before the first event on Friday. On the way back you gain a full day so you will arrive almost the same time you depart.
Use Flexible date search options.
See Below: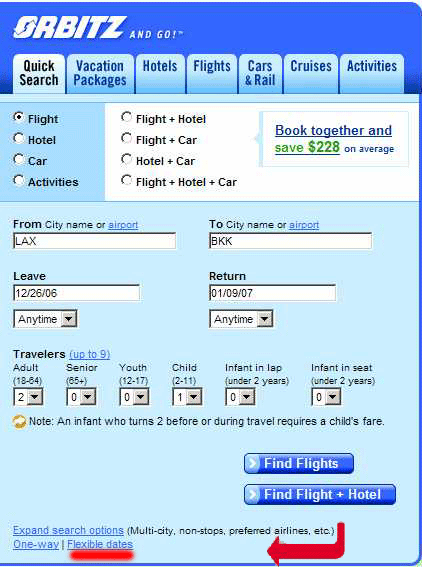 Now for arrive dates select: 3 days before.
On Departure date select: 3 days before or after.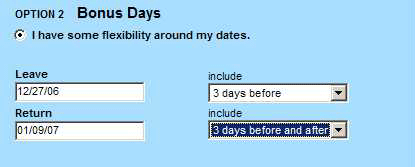 This will give you wide variety of prices, arriving a day or two early can save thousands of dollars. This would then cover an extra night in the hotel.

Discover why more Singles Tour clients place their trust in A Foreign Affair each and every year than any other tour agency!
Now have all your Singles Tour questions answered by one of our Tour Representatives 7 days a week, from 9AM to 9PM MST, by calling our Tour Info line at (602) 553-8178
Announcing Our Live Telephone Forum
We're here to answer your questions about EVERYTHING!
foreign travel, foreign customs, foreign women, how to protect yourself from scams
And So Much More!
All Free (you just have to join the discussion)
Be a part of A Foreign Affair 's only live telephone discussion group as our panel answers your questions concerning Foreign brides, immigration issues, cultural differences and Foreign marriage services/Singles Tours. Our panel often includes John Adams, President of A Foreign Affair , Bud Patterson, a leading expert, past Singles Tour clients and real foreign ladies who have happily married American men just like you. You will be joined by up to 100 callers from around the world for an hour or more of informative, current, and important information for anyone considering meeting and marrying a foreign bride. It's free, informative, and fun, so mark it on your calendar and be sure to call in and join the conversation!